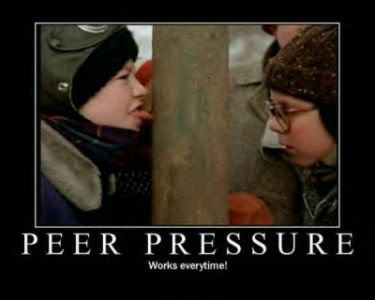 Ok

, so maybe you've received my mass email about my blog. Thanks for stopping by! I really enjoy doing this, but it's

alot

more fun if people actually read them and leave comments. So do you know how to bookmark or mark as a favorite, so you remember to come back? Please do so.
If you don't have a blog, make one. It's pretty easy I promise. Your friends and family will enjoy it. No pressure here; or "peer pressure that is". Don't we only wish this was the only kind of "peer pressure" our innocent children will be facing in the years to come? Referring to the picture above.
Soooo

if you have a blog let me know so I can add you on my list. If not, take some time over the Christmas break to create one. If you have any questions I will be more than happy to answer them.
I pray you will have a Merry Christmas! Only 5 days of shopping left....Jeri that means you! :)
Hope to hear from all of you soon!