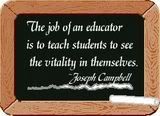 Life can sure be intersting at times. Who would have known David and I would BOTH return to teaching in the month of March? After David's recent layoff from Dell I decided to put in a few applications at some local districts. I heard from a school a few days later. I actually told the Principal I was not interested at the time. I realy was hesitant to go back to work. Well, a few days later God gave me another little nudge and yet another Principal called me for another job. I decided to meet with her. After learning more about the job and the situation I told her I was interested. I then learned it was a traveling position between 2 schools, the other school being the first school that called me. Ha! Who was I to think I knew what I was doing? Smile.
I really do love teaching! I also love being home with my daughter all day. I am blessed to have my mom who will be able to care for her while I am at school. After a few serious talks with God I am comforted to know that this is the plan for my family at this time.
In addition David will be going back to teaching as well. Although I'm not sure where yet. He has not officially accepted a position he has been offered. I will post more on that later. At least when I am at liberty to say. :)
As for now I must pay a few bills online while I have the chance!